Discover more from Lateral Theory
where difference creates
Who are the grifters?
Did you guess who the " F*** grifters" were? According to a Spotify executive Prince Harry and Duchess Meghan Markel are grifters.
Elizabeth, Keith, Laura and Reetu had a lot to say about Spotify, Prince Harry and Duchess Meghan Markle. Our conversation went into traditional and non-traditional relationships and the role gender plays in tradition. How did we get from Spotify to Tradition? Tune in.
BRKIN Bread Episode 18: The Grift and the Purse is out now
Watch BRKIN Bread exclusively on Patreon or listen on all audio platforms.
---
What was on the menu?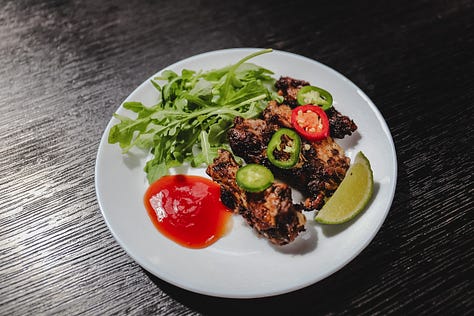 Chef Caron did it again.
Starter: Jerk Chicken and Homemade Jerk Sauce
Main: Curry Goat over a bed of potatoes with White Rice and Cabbage
Dessert: Cherry Pie, Vanilla Sauce with Mint grown from Chef Caron's garden
---
BRKIN Bread is award-nominated!
I announced that BRKIN Bread has been nominated for TWO Independent Podcast Awards for Best Educational Podcast and Best Podcast Jingle. The Independent Podcast Awards are at Kings Place on Monday, 30 October 2023.
For more information and tickets, please visit the Kings Place website.
We'd love to see you there to break bread with us.
Hungry Minds, pull up!
Forward,
Sabrina Clarke
Founder
Lateral Theory