Discover more from Lateral Theory
where difference creates
BRKIN Bread won!
and Episode 20 drops tonight.
Monday night, BRKIN Bread became an award-winning podcast!
BRKIN Bread won Best Podcast Jingle at London's first-ever Independent Podcast Awards. The judges said, "It doesn't get better than this. The production, the clarity of purpose".
Clarity of purpose is exactly what BRKIN Bread is. From our jingle to the approach, BRKIN Bread's purpose is to bring back the art of conversation, and it is clear that our aim resonates with our audience and now our peers.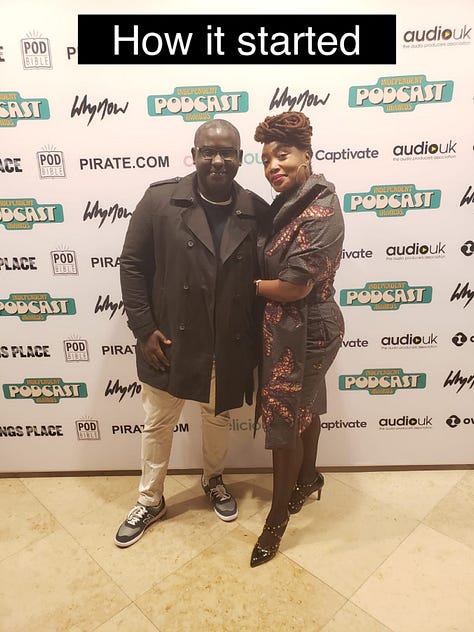 I collected the award with Chris Mitchell, BRKIN Bread Marketing Lead and Emcee Kinetik.
My profound thanks to the trifecta that brought the BRKIN Bread jingle to life.
Izzy Liya, Producer

Kinetik, Emcee

Andrew Cummings-Layne, Engineer

---
BRKIN Bread Episode 20 drops tonight, Wednesday 1 November 7:00 pm GMT/ 2:00 pm EST
This is a not to be missed conversation with our guests Carmel, Collette and Jennifer. We are saluting our sisters with a curated table of Black women. Catch BRKIN Bread at the links below.
---
Have you signed up for our Patreon
BRKIN Bread videos are now exclusively on Patreon.
For the price of a coffee, you get:
BRKIN Bread videos exclusively (full episodes are no longer on YouTube)

All audio in one place

Bonus content

Access to streaming and live events
Join us for unfiltered, ad and algorithm-free space. Prefer to listen? We got you. You can do that on Patreon too. You get great content while supporting independent media, it's a no-brainer.
Hungry Minds, pull up!
Forward,
Sabrina Clarke
Founder
Lateral Theory